CHRYSALIs AMPHITHEATER
MERRIWEATHER PARK - COLUMBIA, MD (2017)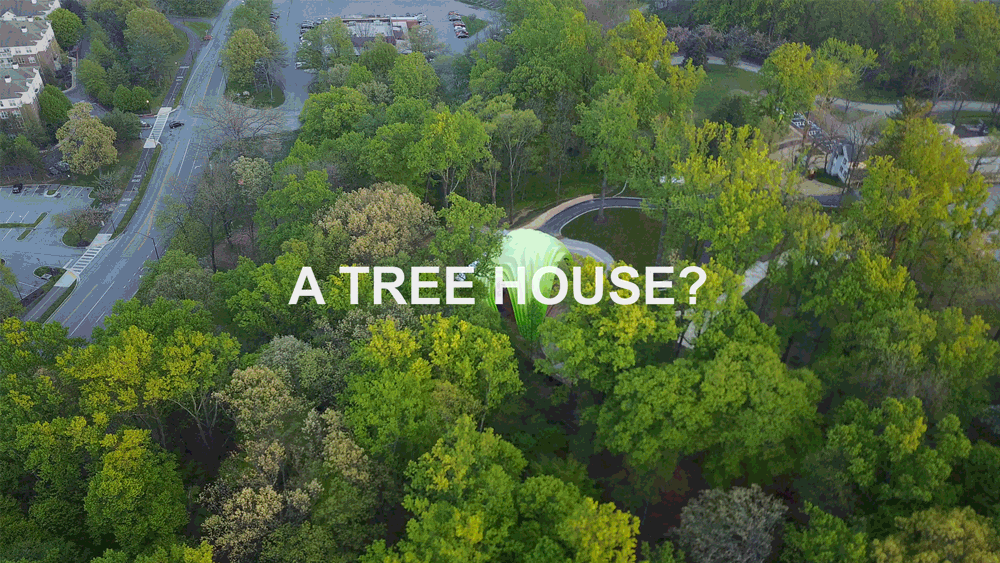 Design BY MARC FORNES / THEVERYMANY
95% of the time, the new Chrysalis Amphitheater in Merriweather Park of Columbia, Maryland is not programmed. Rather than waiting for official events, the project maximizes potential with a design that provides an experience around the clock.
The goal is to provide not just a destination, but an experience for the morning jogger, the Sunday walker, the afternoon stroller, as well as anyone who is actually there for a show. It is an amphitheater, yet it is first a pavilion in the park, an architectural structure, a tree house and a public artwork, ready to be engaged and activated at any given moment.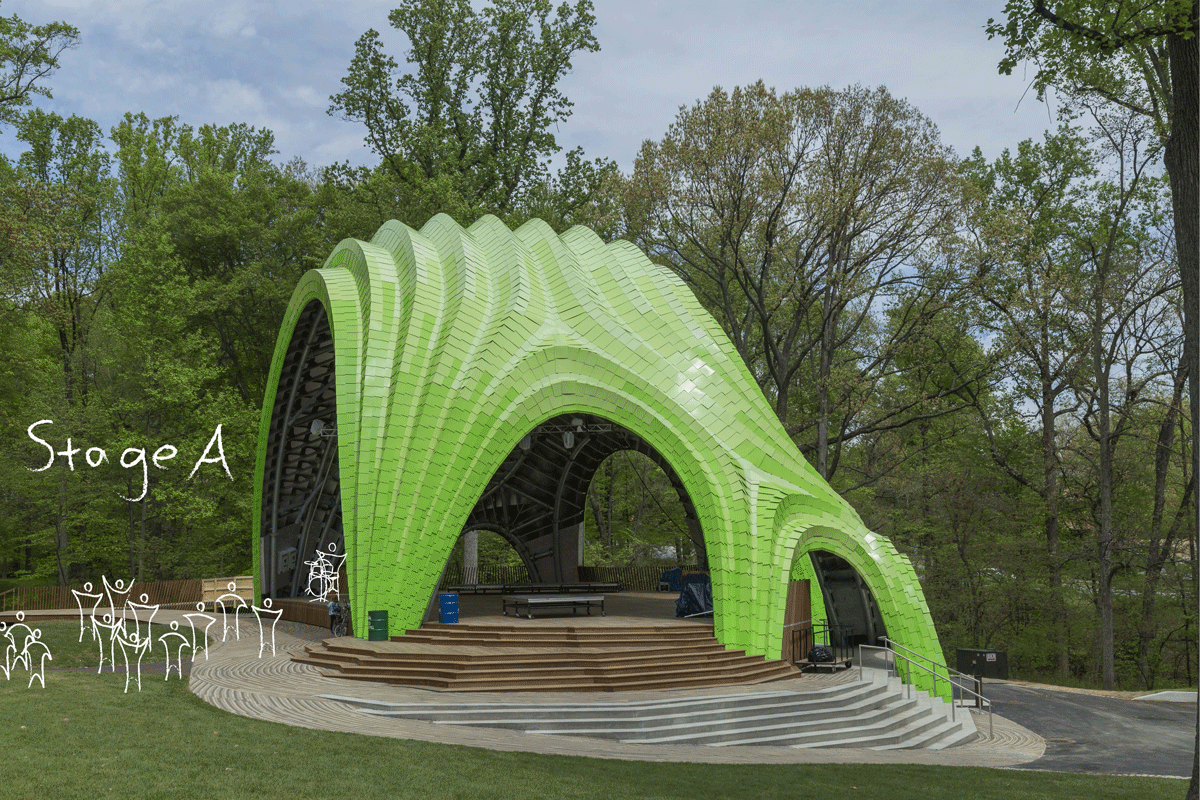 EVERY ARCH A FUNCTION
What emerged as the major design opportunity of the project was to create an emblematic and experiential design while satisfying the standard box dimensions required by a theater typology. The answer was developed as a collection of cascading arches that vary not only in size but function, and also provide a structural system.
The largest arch frames Stage Alpha, dimensioned and structured for official events, including the performances of musicians and the requirements of their equipment and lighting rigs. Immediately adjacent to the main stage is Stage Beta, a venue for smaller and more community-based events, and which still provides a platform, equipment/lighting rigs, and seating area, yet is more appropriate for less of a crowd. The engineered terrain ascending to Stage Beta provides an architectural topography on which park visitors can sit, stand and play, and which can be activated itself as a more casual "Speakers Corners" stage set-up.
Wrapping around the back of the structure, further arches are locations for a truck loading dock, a grand staircase entrance, and balconies with views beyond, which during performances serve as the artist backstage area.
LIGHT ON ITS FEET
To achieve a light and organic effect that suits the context of a dense wooded park, the studio took a structurally-oriented approach, building upon over a decade of research and development of lightweight structural shells that unify form, support and experience into a cohesive system. In particular, The Chrysalis further develops principles explored in its "little brother" precedent, Pleated Inflation, completed by the studio in Argeles, France in 2015.
The Chrysalis is similarly generated from a process in which a digital mesh is drawn flat, and all of its segments are transformed into a series of differentiated spring systems, then inflated. Constraints for pleating are added to the inflation protocol to provide extra structural depth.
Layered within the pleated shell, an exoskeleton was designed to support the heavy loads for performances inside, such as lights and other rigging. Engineered into steel tubing by Arup, it supports 70 point loads that can each sustain 2,000 lbs.
Material: Aluminum Shingles, ZEPPS Profiled Panel Systems, Galvanized Steel Substructure | Dimensions: 64'H x 120'W x 82' | Surface Area: 12,000 sq ft | 7,700 Shingles; 45,000 Rivets
FABRICATION BY ZAHNER
In between its aluminum shingles and steel exoskeleton, the project utilized ZEPPS, a patented interface developed by Zahner, and who also fabricated the 7,700 shingles from rolls of aluminum. Each shingle is painted one of four shades of green that is taken from nature and pushed to the point of artificiality. Together they amount to a subtle green gradient that renders The Chrysalis an iconic signal at the same time that it is camouflaged into its natural surroundings.
Construction Images: Inner Arbor Trust
MARC FORNES / THEVERYMANY was awarded the project following an invited RFQ as one of ten architectural firms in New York (including Grimshaw, SO-IL, nArchitects, NADAA,... )
Credits:
Commissioned by: Inner Arbor Trust | Design: MARC FORNES / THEVERYMANY | Architect of Records: Living Design Lab | Landscape Architect: Mahan Rykiel Associates | Engineering/Theatrical/Lighting: ARUP | Civil Engineer: Gutschick, Little & Weber, P.A. | Specialty Fabrication: Zahner
Structural Form Finding + Computational Geometry: MARC FORNES / THEVERYMANY
Budget: 6.4 million USD | Completed: April 2017
Progress photos courtesy: Inner Arbor Trust