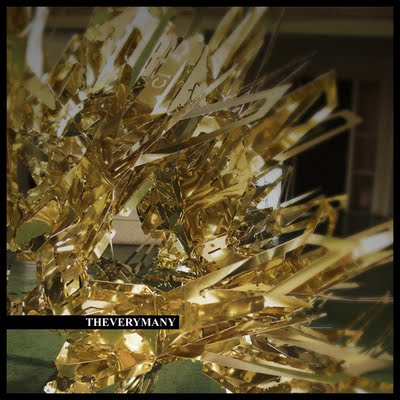 ALOBLUMS | Valparaiso (Chile) | August 2009
Production ($): Marc Fornes + collective BANGS
Design: THEVERYMANY™ / ©Marc Fornes
Design team: Marc Fornes (principal), Skylar Tibbits, Jared Laucks, Mathew Staudt,...
Assembly in Chile : Marc Fornes + collective BANGS + many students from the workshop...
"Anoblums" as sum of its parts:
- 1 sphereoid assembly - 2m (/6') approx. diameter - 70 modules (2*2 types, 4 faces each) - 12 sheets of golden aluminum... - 3700 rivets - everything packed flat and carry with M.F. on the plane as 2 check in bags (40 and 35 pounds) - 3 nights assembly
#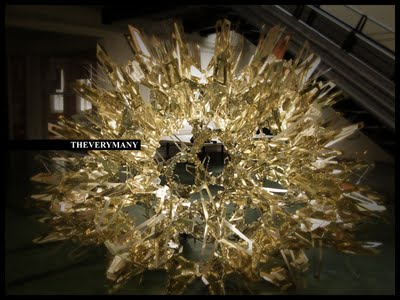 #
[vimeo http://vimeo.com/6188974 w=500&h=338]
(Many thanks to Pablo C. Herrera for the video)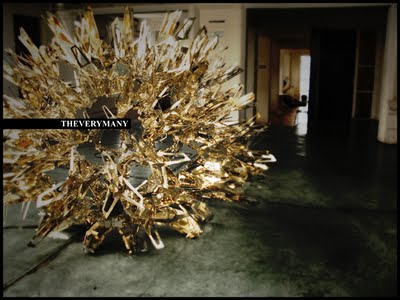 #
*Many thanks to Marcela Godoy for making that workshop happen...
*Many thanks to the collective BANGS: Pablo Barría, Begoña Arellano, Claudio Astudillo, José Narea, Marcela Godoy, Linda Schilling
*Many thanks to the workshops students for the help assembling: Eduardo Hirose, Daniel Concha, Diego Moreno, Juan Pablo Klempau, Felipe Valdebenito, Pablo Banda, Francisco Quitral, Hermann Zbindenn, José Luis Guzmán, Victor Bunster M., etc...
*Many thanks to: Pablo C. Herrera, Tristan Al Haddad